Something
classic
: trendy now yet still fabulous later.
Something
durable
: of course it needs to last when you want to wear it fabulously later.
Something
convenient
: yes the Luella Gisele was 1) & 2) but how many times have you cursed at the closure when your cell phone goes off and it is trapped inside?
Here are some picks for the winter that will always remain a classic for the seasons to come. Some, of course, are splurges because we all know our handbags are
investments
. And some are bargains~ you will need that extra $$$ for an awesome matching wallet.
Louis Vuitton Trouville
($1,200) ~ We were all in love with the multicolore speedy at one point. We were jealous of J.Lo when she was the first to carry it. We cringed after seeing it on Jessica Simpson episode, after episode, after episode. And, of course, we count the colors of the LV's whenever we see the bag on the street because if that girl is sporting a fake then we want to be able to scoff at her about it. So enters the Trouville. A fresh new look in a soon-to-be classic shape. It even has pockets for your cell phone, keys and ipod. An upgrade from the speedy's single zip pocket don't you think?
Tod's Milky Zip Media
($1,250) ~ It is the stylist's bag of choice when outfitting a high-powered female executive from New York City. It has been updated bit by bit since it's previous generations but the Milky now comes in a textured deerskin leather (durability was one of the critieria right?) and has sporty zippers and hardware. You need one in brown. Wait, make that black. Hmm, maybe suede? Oooh what about white...
Marc by Marc Jacobs Satchel
($298) ~ Fun. Cute. Comfy. Everything Marc Jacobs in a mix of suede and leather. The price point isn't too bad also- making it a perfect Christmas gift. But whose shoulders deserve to be spoiled? Better just keep this one for yourself.
Allison Burns Faithful Bag
($275) ~ Yes, we've seen this bag in gold on just about every celebrity that makes it into US magazine. But have you seen how much you can fit into this thing? And the two-in-one strap is still ingenious in my book. But with new colors like bronze, citrus, lilac, moss and tan you can bet you'll see this bag for a long time coming.
Jimmy Choo Tulita Tuscany ($1200) ~ Forget the Gisele, unless you can afford a Birkin bag, THIS will be the bag to tote around. I like the yummy chocolate (or was it coffee) color best.
**edit:
P.S. Look for Jennifer Aniston to rock this bag in her upcoming movie, derailed.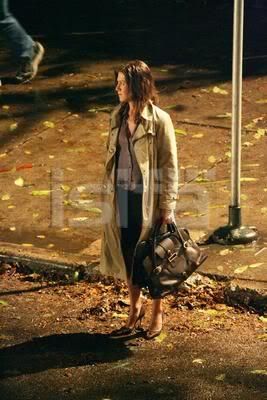 Juicy Couture Charm Hobo
($295) ~ What? Did Juicy finally make a cute bag? One I can actually wear out without looking 14? I agree, the hobo is not an original idea... but hey at least this bag isn't a knock off of Botkier, Luella or the Celine Boogie bag like their first season. It does come in an array of sherbert colors plus basic black.
Felix Rey Butterfly Clutch
($138) ~ Of course, a winter closet is not complete without some Holiday Party accessories. Felix Rey makes clutches from smooth silk in a variety of prints to complement your outfits. And even though clutches are small, they are still something to be seen. And if it will be seen, it might as well be admired.
Lorelie Paget Ruched Clutch
($198) ~ Sweet yet edgy, always a good combination. Made of a sleek leather body and satin bows, this clutch adds a sophisticated touch to that simple back dress but chic enough for your rocker outfit.
P.S. Is it a shocker that mines is the first list to NOT include the Balenciaga Moto Bag? Yes, I've done this on purpose: that bag has been out too long and just because Mary Kate & Ashley didn't discover it until this summer doesn't mean that it's a "new, hot" item. I was a big fan of this bag and own it in black~ but the past few months have unfortunately been overkill for this style turning it from "classic" to "overplayed".